Sometimes the dress you choose for your big day is entirely unexpected. Occasionally, it feels like the dress chooses you, not the other way around. It may be out of character and nontraditional, but sometimes you end up with a short dress. You may not even expect it, but don't rule it out until you try. Because when you put that dress on – the dress, you'll just know.
Although wedding dresses are still by and large purchased in a store (and you can see the evidence of that in the number of customer reviews with each rating), that's gradually changing. With Amazon's Prime Closet program, you can try on clothes and determine which is the dress for you; and if the dress you're interested in doesn't qualify, the return policy on Amazon is still probably the best online return policy in the world.
We reviewed dozens of short wedding dresses to identify the best of the best. Because "short" dresses refers to a pretty big variety of lengths, we looked for everything from mini to tea-length wedding dresses to find the best for you. We found the formal and the casual and everything in between. No matter where your dress tastes lean towards, we have you covered.
Early in our search, we found the Lalagen Women's Vintage 1950s Party Cocktail Wedding Swing Midi Dress and while it was immediately our favorite, the more we looked into it, the more clear it was that it was the favorite and simply had to be our top pick. With a vintage look and simple elegance, this dress really fits the bill for your wedding day.
The 5 Top-Rated Short Wedding Dresses
*Ratings are from Amazon at the time of publication and can change
Our Top Pick: Lalagen Women's Vintage 1950s Party Cocktail Wedding Swing Midi Dress
If you want a dress that will be beautiful, but not steal the spotlight from you, the Lalagen Women's Vintage 1950s Party Cocktail Wedding Swing Midi Dress is perfect for you. It doesn't have the embellishments that sometimes feel over the top on other wedding dresses and the swing design will accent your waist while flaring to compliment you whether you're a size 2 or size 20.
It's made of a breathable material so it will keep you cool in hot summer months – even when you're sweating with nerves. The fabric is also stretchy and soft, so it'll be all the more comfortable for you. After all, you won't want to be miserable on your day – you have much more important things to worry about! If you're marrying in the winter months, this dress has a thicker fabric version in the same style listed, as well. It even zips up in the back so you won't need a team to get you in or out of it. This dress design has thought of every aspect of your comfort.
With nearly 1,200 customer reviews on Amazon, it's hard to overlook the 83% positive reviews earning it an overall rating of 4.4 stars. That should be plenty enough to tempt you and a look through those reviews will seal the deal.
Lalagen Women's Vintage 1950s Party Cocktail Wedding Swing Midi Dress Key Features:
6 size options
95% polyester 5% spandex
9 color options
Our Runner Up Pick: MEROKEETY Women's Elegant Cocktail Dress
The MEROKEETY Women's Elegant Cocktail Dress has a delicate lace that will let you keep a bit of your traditional wedding style feel, even if it is a short dress. There are three different styles that you can choose with this dress, but only one will feature the white lace. Another color is definitely an option you can consider, but if your aim is for the classic white, then you'll be getting the cylinder-style dress.
The zipper is hidden along the back, so it won't stand out in pictures or on the alter, but more importantly, you'll still be able to get the dress on and off without assistance. The dress is mostly sleeveless, with just eye lace details that will give a fringe detailing along the edges of the sleeve, the bottom and the neck.
There are nearly 1,000 customer reviews on Amazon for this dress and that means you can trust the overall rating of 4.4 stars. And if you're looking for a high neck dress that comes just above your knees, that's going to be nice for you to read about this dress.
MEROKEETY Women's Elegant Cocktail Dress Key Features:
Form fitting, body con design
15 style and color options
5 sizes available
Best Budget Pick: ACEVOG Women's Party Wedding Dress
The ACEVOG Women's Party Wedding Dress will still give you a traditional look, despite is mid-thigh length. With lace and stark white design, no one will doubt who the bride is, even in a crowd of guests. It will shape to your body, with its high quality stretchy fabric, so keep that in mind when you're picking out this dress. (That's what "bodycon" means – body conforming. It's meant to flatter – yes, but also to hug all your curves.)
You won't be able to have wash this dress due to the delicate nature of any lace, so hand wash only it is. But when considering how the vast majority of other wedding dresses are washed, you can't really expect much else. Wedding dresses – especially those with lace – are generally pretty delicate and delicate dresses need a delicate wash.
It's $40 at most. There's plenty to be said of the overall rating of 4.2 stars on Amazon and how confident you can be in that rating with over 800 customer reviews but the bottom line is that if you buy this dress you'll be spending $40 or less. On a wedding dress! How financially responsible of you.
ACEVOG Women's Party Wedding Dress Key Features:
Off-shoulder, bodycon style
9 color options
6 size choices
Best Short Vintage Wedding Dress: Abaowedding Women's Short Lace Wedding Dress
The Abaowedding Women's Short Lace Wedding Dress is perfect for that vintage vibe that will still maintain a very formal feel to your wedding. The bodice will fit you snug and the flare of the skirt is reminiscent to the style of the 1950s. This dress would be perfect for anyone who admires the golden age of Hollywood or for anyone who just happens to like this particular dress of that era.
We especially like the fact that this dress has a "custom size" option so that you'll be able to request in your own size – with your own exact measurements. That means that if you have a longer torso than usual, or are petite in height and worry that you won't have the right length with your standard size order, you can still get just the right fit. On your big day, you deserve a dress that fits like it was made for you – because it was.
With an overall rating of 4.3 stars on Amazon earned by just under 100 customer reviews, there's enough to suggest high quality and customer satisfaction, for sure. But more than that, the reviews are riddled with brides claiming that the dress isn't just beautiful – it's perfect.
Abaowedding Women's Short Lace Wedding Dress Key Features:
Satin and lace design
Hand-embroidered with gorgeous appliques
Any size available with custom sizing
Best Lace Short Wedding Dress: WOOSEA Elegant Lace Short Wedding Dress
The WOOSEA Elegant Lace Short Wedding Dress will fall nicely along your body and will, if fit properly, be a comfortable dress you can wear for hours without complaint. It can be either a formal dress or a more casual one, depending on what you do with it; ah, the power of accessorizing. You can have pretty much any type of wedding you want with this versatile dress.
If you're worried about how modest your dress is, and want to veer away from too many nonconforming features in your wedding dress, this dress may be the answer to your concerns. Not only is it longer sleeved, but it has a high collar that won't show cleavage (you're welcome, Dad) and the dress length is mid to low thigh, depending on your height. So you'll still get to show off your legs, but not make anyone uncomfortable with how much.
There are around 200 customer reviews on Amazon for this dress giving it an overall rating of 4.2 stars. That's plenty to suggest you'll be satisfied with this purchase and, while not the goal, because of its versatility, if you buy it but later decide on a more traditional gown, this will still work for any of the events leading up to the wedding.
WOOSEA Elegant Lace Short Wedding Dress Key Features:
3/4 length sleeve
5 size options (Note: sizing may be different than generic Amazon size chart)
3 colors available
Who Should Buy a Short Wedding Dress
If your favorite physical feature of yourself is your legs, a wedding dress that will show those off is certainly worth considering. It's your (and the spouse's) day; it should be what you two want; tradition not withstanding. When it comes to your dress though, that's an expression of you. That means the dress decision is up to you. If you decide to display your hubby's favorite feature, that may give you the boost of confidence you need as you walk down that aisle towards him. A short dress is perfect for a bold woman who does not make fashion choices based on what is traditionally acceptable.
If you plan on having a casual wedding, a short dress is a short cut to getting there, too. You don't necessarily have to have a casual wedding with a short dress – there are plenty of formal dresses that are above the ground. But if you want to keep it casual and fun, a nontraditional dress length is probably the easiest way to signal to your guests exactly how casual you want your event. And if you plan on getting married outside in the Spring, who can blame you for wanting to avoid dragging a big dress through the potentially muddy ground? Let's not forget most short wedding dresses aren't quite as expensive, either. So, if you're on a budget, this style dress may prove a big help!
The main reason you should buy a short wedding dress, though, may be the most obvious. You buy a short dress if that happens to be the dress that make you feel the most beautiful. You should always know that you are beautiful, but finding a dress that amplifies that feeling on a day as big as your wedding day means that you won't have to panic when all eyes are on you. You may not have a perfect wedding (such a thing just doesn't exist!) but you can have your perfect dress and you shouldn't have to surrender what makes you happy for tradition.
Important Features to Consider
A short wedding dress should have a few important features. Here's what to consider when selecting a dress for your wedding day:
Color. If you're already bucking tradition by getting a shorter wedding dress, you may want to consider a color besides white. Gone are the days where the wedding attendees judge your purity based on how white your dress is. If you want to find a dress that matches the color of your wedding theme, then you can go for it! If it helps you consider a colored dress, consider that the more traditions you shirk, the easier it gets.
Hi-lo hem. Ah, the mullet of the wedding world, but so much classier. A hi-lo dress will be shorter in the front and gradually get longer in the back. With this, even a short dress can still have a type of train. And that train can be as long or as short as you want it. You can find a wedding dress that will drag behind you or one that won't ever touch the ground. In fact, you could have a tea length in the front and a long back to maintain the traditional feel without ever tripping over your dress. And if you want to show off the shoes you paired with your dress – what better way?
Tea length. A tea length dress is generally considered a vintage dress. It will usually be in an A-line style, coming to below your knee and about mid-calf with the flare of a pettiskirt. There is no exact length, though, so not all dresses will fall just where you'd like; which can be a wonderful thing for especially short or especially tall women. These dresses can come in a fitted style, and that, too is considered vintage, but more often than not the wedding dresses cut to a tea length will flare. It's easier to maintain a formal wedding with the A-lined tea length than perhaps any other short wedding dress due to the classy lines and the fluff of the pettiskirts. If retro isn't your thing, though, you will probably want to avoid this length.
Embellishments. There are few things in design that say "wedding dress" as unabashedly as an abundance of lace and beads. They add a layer to the dress that subtly dazzle and will pull the entire room's attention your way without them even noticing they are focusing on you. It may be primarily your shining smile and gravitating aura, but those little embellishments can definitely kick those up a notch. Embroidery is a more subtle embellishment, but if done in an elegant enough way, it can lend to a more formal style. Crystals is another common wedding dress embellishments and while they may not be as common as the beads or pearls (mostly faux pearls, though, let's be honest), they're still a bit of bling that makes you catch every light shining and twinkle everywhere you go.
Off-shoulder. If you feel that there is such a thing as showing "too much skin" on your wedding day, you may want to pick one physical feature to accentuate and cover the others up. For example, a modest dress will probably not have a low cut and short length. You can go big on one of the skin showing style choices, or  you can go a little on each. (Or you can throw caution to the wind and cover just the essentials for an ultra-sexy wedding dress.) It will depend entirely on your style and comfort, of course, but if you're trying to keep a traditional feel for your wedding, then find a place somewhere in the middle of wedding tradition and your bold nature.
Veil. While a veil may not, strictly speaking, be part of your wedding dress, if you're getting a short wedding dress, it's probably a part of the ensemble you don't want to forget. It will help you maintain your formal wedding while still giving your hubby something to pull back when he goes to kiss the bride. You may be all too willing to pass on the traditional fuss of a long dress but you don't have to give up the "Kiss the Bride" dramatic reveal to do it.  Of course, you'll want to get one that coordinates with your dress; no pearls on the dress and crystals on the veil. For your vintage dresses, you may even do best with a vintage hat and veil combination.
Frequently Asked Questions
Are short wedding dresses appropriate?
Some of what is deemed appropriate and inappropriate has to be up to the venue. If you're getting married in a strictly orthodox church, you may want to contact the office to check any rules they may have. (Although they'll probably be pretty up front with their rules, you always want to make sure you don't roll the dice on your big day.) Barring any rules from your church or venue, what is appropriate is determined by you. Your day, your rules. If you don't like the rules the church enforces, you can opt for another venue. Maybe you could have an outdoor wedding and try to have the religious leader come to you. (Although if the church is too orthodox to allow short dresses, the chances the leader will marry anyone outside of it aren't great.) You can also find someone important to you, the groom, or you both to perform the ceremony if the rules of your religious leader are too severe.
The only other stipulation we would caution you on is the opinions of those paying for the wedding. For example, if your dad is paying for the wedding and is adamantly against his daughter wearing a mini wedding dress, you may want to consider a compromise that leaves you both happy. Conversely, you may just want to consider paying for your own wedding if the rules become more strict than you'd like to adhere to. Your wedding, your day, your call.
Is a short wedding dress okay for a formal wedding?
You can still have a "formal" wedding with a short dress, but you may want to adhere to other traditions with regards to the dress to maintain that standard. That may mean getting a tea length dress which is usually a bit more formal "length" but it could also just mean plenty of other embellishments that are more conventional. Lace and beading are typically pretty formal, so those will be good features to include in your search for the perfect formal short wedding dress. You may also find a short dress with a pettiskirt that would increase the formality of the event. Nothing says formal quite like a puffy dress and short doesn't mean you have to give that up. A good set of accessories, a tiara or veil for example, can go a long way to help keep that formal status, too.
Are tea length wedding dresses in style?
In 2019, the epitome of vintage bride is a 1950s style dress and that will very often mean a tea length dress. Everything old becomes new again, and the tea length dress is currently having its turn. It complements all types of bodies, so there's a good chance when you put it on this will be your style. The tea length fitted dresses may not flatter all types, but an A line will fit a more curvy body well. You can still have your short dress but maintain a formal affair, so this fashion trend is all the rage with weddings. It's just begun to gain popularity in some areas and because it's so versatile, we don't see it going away anytime soon.
Will a short wedding dress work for my body type?
Because "short" refers to pretty much anything above the ankle, there's a pretty good chance you'll be able to find some kind of short dress that will look great as your wedding dress. You may not like your thighs, then a knee length will fit well. Hey, you may not want to shave above your knees so a tea length will have you covered – literally. (Although your spouse may not be in love with that idea but it's your body, your day; do what you want!) The only limitation there really is for you is your own opinions about your physical appearance. If you hate your ankles, there's no real go around that with a short dress, unless you want a country wedding complete with cowboy boots. But beyond that, if you want a short dress, your body type won't limit you.
If you want a more detailed "How To" check out the article, How to Choose a Wedding Dress for Your Body Type.
Other Short Wedding Dresses We Reviewed
We looked at 20 other short wedding dresses. Even though they didn't make our 5 best short wedding dresses list, they're the best of the rest and each is still a great option for your big day. The information you'll need to compare each one is included with the listing. We've grouped them into the following categories to make it a bit easier on you:
Above Knee Short Wedding Dresses
Luokadress Women's V-neck Sleeveless Beaded Wedding Dress
This dress has a classy drape along the back and detailed bead work to give it a conventional wedding feel.
Key Features:
Choose between the long or short version
White or Ivory options
Size 2-26 available and custom sizing
Cost: $50
Women's Elegant Rounded Neck Short Lace A Line Dress
The delicate lace on this short wedding dress will have you feeling especially feminine on your wedding day.
Key Features:
4 sizes available
5 color choices
Zipper closure
Cost: $35
Yilis A line Satin with Lace Appliqued Short Dress
With delicate appliques and the formal satin, this dress is every bit the classic wedding dress – despite the nontraditional length.
Key Features:
22 colors available
Lacing back closure
Size 2-26 available
Hi-Lo Short Wedding Dresses
Abaowedding Women's Lace Wedding Dress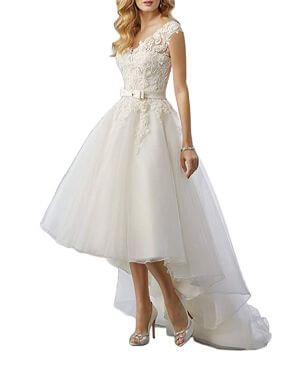 This hi-lo wedding gown will allow you to have your short length and still keep that formal train.
Key Features:
Tulle flare and detailed applique
Zipper closure
Sizes 2-26 available
Cost: $100
BeryLove Women's Floral Lace Hi-Lo Dress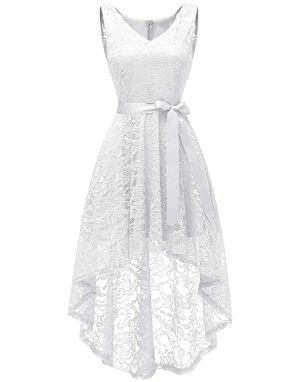 This wedding dress has enough lace to merit the name "wedding dress" but is simple enough for a casual wedding. (Or accessorize it for a more formal affair!)
Key Features:
Concealed zipper closure
7 sizes available
12 color options
Cost: $35
E-Scenery Women's Wedding Dress
This inexpensive dress has a stretchy lace bodice and a flattering chiffon skirt.
Key Features:
100% chiffon
3 color choices
4 size options
Cost: $10
Homrain Women's Vintage Off Shoulder Hi-Lo Lace Wedding Dress
This dress will fall off your shoulder and hug your curves with detailed, stretchy lace.
Key Features:
9 color choices
Stretchy lace and polyester design
6 sizes available
Cost: $40
MODECRUSH Womens Ruffle Sleeve Formal Hi Low Dress
This dress is made with a high quality lace that will give smooth lines to your frame to keep you confident through your special day.
Key Features:
11 color choices
Sleeveless or short sleeves available
7 size options
Cost: $40
MUADRESS Women's Sleeveless Lace Wedding Dress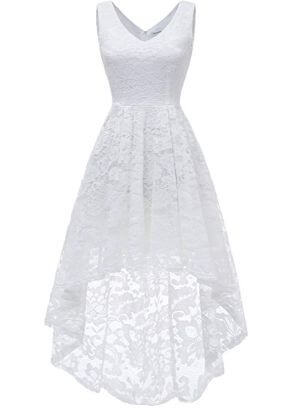 This v-neck wedding dress is the perfect cool dress for a hot, summer wedding.
Key Features:
Hand wash or dry clean only
XS to 3XL sizing available
14 size choices
Cost: $30
Women's Vintage Wedding Swing Dress
This wedding dress will fall lightly against your body and flow flatteringly as you move.
Key Features:
3 sleeve length choices
7 colors available
5 sizing choices
Knee Length and Handkerchief Short Wedding Dresses
ABaowedding Women's Knee-Length Short Wedding Dress
The closure of this dress appears, at first glance, to be traditional buttons but is instead a discrete zipper, making it much easier to get on and off.
Key Features:
White or Ivory choices available
Sizes 2-26 option
Delicate lace and tulle
Cost: $70
BeryLove Women's Lace Short Dress
This simple short wedding dress is perfect for a backyard or courthouse wedding and all the events related to it.
Key Features:
10 color choices
6 sizing choices
Concealed zipper closure
Cost: $35
Gardenwed Floral Lace Wedding Dress
This handkerchief cut wedding dress is perfect for a country wedding and features a transparent lace shoulder with a solid bodice.
Key Features:
6 sizing options
8 colors available
Hand wash only
Cost: $30
This wedding dress features a stretchy bodice that will complement your curves and a formal satin skirt that exudes formal wedding.
Key Features:
Sizes 2-16 available
19 color options
Lacing closure
Cost: $70
Liyuke Women's Short Vintage Wedding Dress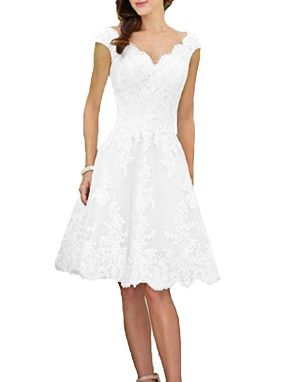 This listing includes the dress pictured and a version of it with a flared tulle skirt, so you can choose whether you want the more formal or casual version.
Key Features:
Sizes 2-26 available
12 color choices
Zipper or lace up closure options
Cost: $90
Modecrush Womens Cocktail Wedding Dresses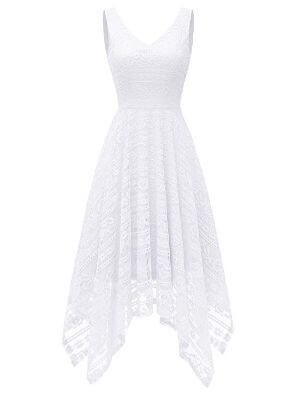 This is a more casual wedding dress but with the stark white color and classic lace design, there will be no denying who's the bride.
Key Features:
6 size options
Concealed zipper closure
8 color choices
Cost: $35
YOYAKER Women's Floral Lace Wedding Dress
This simple white short dress is perfect for a simple wedding; or the perfect canvas to create your own formal affair.
Key Features:
7 sizes available
7 color choices
Floral lace and elastic design
Tea-Length Short Wedding Dresses
ABaowedding Women's V Neck Long Sleeves Tea Length Short Wedding Dress
This dress includes buttons along the back that conceal a much easier to operate zipper closure.
Key Features:
Tulle and lace design
White or ivory choices
Sizes 2-26 available
Cost: $85
Firose Vintage 1950s Wedding Gown
This short dress is perfect for the formal wedding of a bride who just loves the vintage style.
Key Features:
Sizes 2-26 and custom sizing available
Concealed zipper closure
Ivory or white
Cost: $100
This short dress is still the epitome of formal affair, no matter its length.
Key Features:
White or ivory
Sizes 2-26 available
Lace and satin design
Cost: $75