Welcome to our guide on The Best Red Wedding Dresses! If you're a daring bride looking to break free from the traditional white gown, you're in the right place. Our comprehensive wedding dress shopping guide covers everything you need to know about shopping for your dream wedding dress.
"A red wedding dress makes a powerful statement, symbolizing love, passion, and courage," says bridal designer, Isabella Martin.
In recent years, 15% of brides have chosen a non-white wedding dress, with red being a popular choice. Finding the perfect red wedding dress can be overwhelming, but fear not – our article will help you navigate the vast array of styles and shades to find the red wedding dress that suits you best.
The Best Red Wedding Dress
From the beginning of our research, we knew that the Babyonline Women's Double V-Neck Tulle Appliques Long Evening Cocktail Gown was the obvious choice for our top pick spot. The more we looked into it, the more we were convinced. With a gorgeous V-neck design and a bold red color, this dress will surely make you the center of attention on your wedding day.
The 5 Top-Rated Red Wedding Dresses
*Ratings are from Amazon at the time of publication and can change
Our Top Pick: Babyonline Women's Double V-Neck Tulle Appliques Long Evening Cocktail Gown
The Babyonline Women's Double V-Neck Tulle Appliques Long Evening Cocktail Gown has a tulle outer layer with floral lace and sequin appliques that would give it the bridal feel, no matter what color it came in. But this vibrant red will make you stand out as the center of attention, probably even more so than any white dress ever could. And, should you want more "fluff" you can add a pettiskirt and make the dress more full.
The V-neck has a modesty patch to keep you from revealing too much cleavage, but it's transparent so it's still going to flirt with the edge of tradition, even so. And the deep V-cut of the back creates an almost backless appearance that somehow still manages to pull off classy and elegant. The concealed zipper closure means you won't have trouble getting in or out of it, nor will it be distracting or obvious, so it's a win across the board.
There are right around 1,200 customer reviews on Amazon for this dress and with an overall rating of 4.2 stars, you have every reason to believe it will be the perfect style to add to your perfect big day.
Babyonline Women's Double V-Neck Tulle Appliques Long Evening Cocktail Gowns Key Features:
8 color options (2 different reds)
Sizes 2-16 available
Handmade lace and tulle
Our Runner Up Pick: Miss ord Strapless Asymmetric Slit Front Wedding Evening Party Maxi Dress
The Miss ord Strapless Asymmetric Slit Front Wedding Evening Party Maxi Dress is an excellent sexy wedding dress that will leave the crowd wowed. It's a mermaid cut that features a slit just off-center to reveal a little leg while still giving you the train you love for walking down the aisle. In fact, several reviews rave about how long the train is, meaning that while it may not be the best for a night out, it is absolutely perfect for a wedding dress. You can opt for the strapless and sweetheart neckline or the same neckline with small and skinny spaghetti straps.
The fabric is made with a stretch, so the dress will hug your curves flatteringly and make sure all eyes are on you. And, even better, because the dress is simple, you can really go wild on the accessories. Big jewelry will go so well with this dress, you can do virtually anything. Long earrings, big bangles, and a bib necklace would all work brilliantly, but we especially love perusing the customer pictures on Amazon and seeing the body jewelry that hangs down from neck to hips.
And while we're on the topic of those customer reviews on Amazon, there are nearly 700 of them, which makes the overall 4.5 star rating all the more solid. With that many reviews, you can take confidence in your purchase.
Miss ord Strapless Asymmetric Slit Front Wedding Evening Party Maxi Dress Key Features:
5 sizes available
Strapless or spaghetti strap
3 color options
Best Budget Pick: Miusol Women's Casual Deep- V Neck Sleeveless Vintage Wedding Maxi Dress
The Miusol Women's Casual Deep- V Neck Sleeveless Vintage Wedding Maxi Dress is a ideal dress for a traditional style with just the flair of nontraditional color. It's simple enough for a simple wedding but has enough lace to clearly indicate it is, in fact, a wedding dress. And if you want to add formality, then a bit of bling, an elaborate veil, or a large bouquet will make the whole ensemble all the more appealing.
The back of this dress is a flattering and transparent lace that will discreetly reveal your skin without being inappropriate in even the more traditional scenarios. Though the dress says "deep" V-neck in the title, there isn't really enough evidence in the customer photos to convince us that deep is the best choice of words. It's a moderate V, we'd call it, revealing maybe the hint of cleavage, but nothing too much for a church wedding.
With just under 3,000 customer reviews on Amazon, this dress certainly has enough clout to build your confidence in the overall rating of 4.3 stars. But the real selling point of this dress has to bethe cost; you can get one of these dresses for your wedding for just under $40 and that's a huge steal!
Miusol Women's Casual Deep- V Neck Sleeveless Vintage Wedding Maxi Dress Key Features:
6 sizes available
100% polyester
7 color options
Best Red Mermaid-Style Wedding Dress: MUXXN Women's 30s Brief Elegant Evening Dress
The MUXXN Women's 30s Brief Elegant Evening Dress is a beautiful dress to choose for your wedding. With a rich burgundy color, it's an excellent choice for an evening wedding, but it works just as well for daytime weddings, too. The cowl-neck is higher on the neckline than perhaps most wedding dresses you've seen, so if you're a big fan of modesty on your wedding day, this dress may just fit the bill for you.
The back has a deep-V that will show some skin but still let you wear a standard bra (so you can wear the best bra you own or buy an amazing one especially for your big day). The drape of the dress is listed as "vintage" and is reminiscent to the 1930s, flowing to the floor and flaring from the knee just enough to notice, with that classic figure-flattering mermaid shape.
This dress has an overall rating of 4.6 stars on Amazon, making it a big hit with its customers, of which over 1,300 people have come back to review. So many of those customers like the dress that 89% gave it positive reviews. So we think it's a safe bet you'll be one of those satisfied customers should you make this purchase.
MUXXN Women's 30s Brief Elegant Evening Dress Key Features:
Sleek satin finish
6 sizes available
7 color options
Best Red Ball Gown Wedding Dress: ANTS Women's Pretty Ball Gown Dress
The ANTS Women's Pretty Ball Gown Dress is a big, glorious dress that will ensure you're getting all the frills you could possibly want in your wedding dress. It's fully lined with bone and has an inner pad that will offer you plenty of support and cleverly hide any torso flaws you want hidden. The back laces up and pulls closed as if by drawstring and the waist is given the appearance of a cinching with a rhinestone belt that adds to the flourish of the dress.
When you're in the market for a ball gown, that is also a vibrant color like red, you're probably going to stumble upon several "Quinceanera" dresses, (as we found during our research) so don't mind that in the title of this dress. If you'd like the dramatic puff shown in the listing, keep in mind you'll need a slip of some kind; a hoop or a pettiskirt, depending on how big you want it.
This dress has a pretty substantial number of customer reviews on Amazon, over 300, and that's at least enough to build your trust in the overall rating of 4.7 stars. And with a rating like that, it's plenty enough to tempt us, and we think looking at a few customer photos will convince you, too.
ANTS Women's Pretty Ball Gown Dress Key Features:
17 color choices (2 reds)
Sizes 2-26 available
Dry clean only
Who Should Buy a Red Wedding Dress
If you're just sick of the overwhelming white of wedding dresses, then red is an excellent alternative. You can shed the weight of convention and choose a dress that does not say anything about purity. (It isn't anyone's business and it's certainly not true anymore, so why the tradition of "pure as white snow wedding gowns" has stuck around beats us.) You may even find that once you pass on one tradition, others start dropping like flies, too. And if there's ever a day you don't need to occur as it's dictated to you, it should be your wedding day. You are getting married in order to celebrate your love and life with your spouse; you don't need to make your great Aunt Edna happy. Wear the dress that makes you feel beautiful and comfortable.
Ah, but the beauty of the red dress is that it can also be a very traditional dress, too. It all depends on your traditions, doesn't it? You may not realize it, but millions of people in our world wear red for their wedding dress. Red is actually, in some cultures, the color of love, passion, and even good luck and those are all very traditional concepts for a bride on her wedding day. In fact, even if that isn't the culture you're currently in or were raised in, it's enough of a justification for us if you want to tell Aunt Edna you're actually being a traditionalist. We'll back you.
Important Features to Consider
A red wedding dress should have a few important features. Here's what to consider when selecting a red dress for your wedding:
Red accents. Remember that even if you can't find the wedding dress you love in the shade of red you love, you can add accents that will help along the way. You can choose a white dress with the potential to add in color. A red sash, or bodice embellishments can be added to make the dress more to your tastes. No matter what you decide to do to incorporate your red, do not give up on your daring colors if you have your heart set on it.
Casual. Like we've mentioned, if you're already shirking one tradition, why not more? There's nothing that says you can't skip the white and the formality. If you're a casual-type of person, or if you just don't want your wedding to be the big fancy affair that some people have, then you are allowed to do casual. There are plenty of justifications for not taking out loans or letting your parents mortgage their home for one day's celebration. Red casual is still beautiful and it won't make you any less married if you do it your way. You don't have to use a wedding dress that's the most elaborate (and expensive) thing you've ever owned just to prove you're taking the day and your vows seriously. Sometimes less is more and if you want that kind of celebration, make it happen, Bride.
Gothic. If you really love the Gothic dress style and you can think of no other opportunity to go big in a Gothic gown, then of course your wedding day is prime time to go all out. Deep red and dark colors are common of a Gothic style. Black accents on a red dress are a perfect color compliment and in case you're worried about any implications, black is actually one of the most common wedding dress colors in Spain and Scandinavia. While it is often worn for funerals in the US, a wedding dress with black can mean the bride will be faithful until death. It also declares your independence (and if you plan on keeping your last name, how brilliant is that subtle cue?) and rebellion (in this case from the traditional wedding dress of the western world).
Ball gown. There are very few dress styles that scream "Bride!" in the western world as well as a ball gown does. The idea of this being your both literal and figurative big day comes through in a ball gown, no matter what the color is. Even in a crowd, if you have a ball gown on, no one's going to be getting too close to you, which will inevitably make the crowd part for an optimal view of you and your dress all through your day. (Which may also be a big win for you if you don't really want the shower of hugs that often come with being the bride.)
Cultural. If you want a red wedding dress because that's what happens to be traditional in your culture, then you may need to search more for the cultural buzz word than the color "red." If you're Indian or Chinese, (among so many others!), then you're probably going to be looking for a pretty specific style of dress, too. So searching for just red dress may not yield the kind of results you have in mind. If you want to blend a bit of the western traditions with the eastern, though, then a red dress will give you the Eastern tradition while a western world can be represented in the style (a ball gown or mermaid cut, for example).
What's in a name? That which we call a rose by any other name would smell just as sweet. If you don't speak Shakespearean quotes – in this context, we mean that just because the dress's label doesn't say "Wedding" doesn't mean it's not the perfect dress for your wedding day. Especially when you're looking for a red wedding dress, you'll have to open up your search a bit. While the dresses aren't going to be in a bridal shop, there are still plenty of red dresses that will fit the theme, mood, and look you're trying to achieve. Your wedding day isn't the time to limit yourself, so look in more than the usual places.
Frequently Asked Questions
Is it okay to wear a red wedding dress?
Do you want to wear a red wedding dress on your wedding day? If that answer is yes, then the answer to whether or not it's okay is also yes. Whatever dress you choose to wear to your own wedding is appropriate. You're the boss. You should pick a dress that makes you feel beautiful and loved and happy. A day meant to celebrate your love and commitment is a day that should honor that, not the traditions or expectations of other people. If you're looking for other unique wedding dress ideas, check out these sexy wedding dresses or Turkish wedding dresses.
The only two exceptions that you may want to consider (and they can both be mitigated, not to worry) are the financial backer's opinion and any limitations or rules from the venue. If you have to wear white in a traditional orthodox church, you can't get around that without changing the venue. If your parents are footing the bill, then they could pull the plug if you don't wear the color they want. The good news is, as we've mentioned, you don't have to have the wedding at a particular venue and you don't need to take the money from your parents. You weigh your options and figure out which is more important to you and make your choices accordingly.
What does a red wedding dress mean?
It depends on what culture you talk to as to what a red wedding dress means. In a modern and western culture, where white means purity (post-Victorian era), the red will mean passion and danger. (Before then, red was still the traditional wedding color.) In fact, in blending the eastern and western, red is often worn the second day of a wedding celebration to symbolize that the bride may already be pregnant. In the western world, red is often taken to foreshadow quarrels in the family. But take this superstition with a grain of salt; it is just a color. In eastern cultures, red is the symbol of love and passion (still), but also warmth, desire, and strength. And even more than those, the red wedding dress represents good luck. If you're interested in other bold wedding dress choices, explore these blue wedding dresses or Indian wedding dresses.
What country wears red wedding dresses?
There are several countries that wear a traditional red dress for weddings. In the eastern half of the planet, a red wedding dress is much more common than a white. If you're considering historical brides, then that, too, has plenty of red in even the western world. Only since the Victorian age in the 1800s did brides stop wearing red and begin wearing white. But, after presenting our defense of red wedding dresses, we will still answer what you were probably going for when you thought this question.
Brides in both India and China still use red wedding dresses most commonly. Of course, so does Pakistan, Taiwan, and Vietnam, so you could have been thinking of those, as well. The western world uses colors; Korea wears green, India golds and reds, Morocco uses bright yellow. Considering China and India are the two most populated countries in the world with the United States as a distant third (a billion less people), there are much more red weddings than white in this world.
What style of wedding dress works best for my body type?
Whatever you're comfortable with and in is the dress that will work for you, regardless of your body type. For everyday use, there are plenty of guides that will walk you through what dress will work for what body type. And because you're old enough to get married, we assume you have some idea of what has traditionally worked for you and what hasn't. The safe bet is definitely to start with what you know works. For your wedding day, though, don't be surprised if you throw all those rules out the window. You have to try on what you think you'll love, absolutely, but don't be afraid to go big. The mermaid flare can be bigger, the hoop larger, and so on. You may even find that when you exaggerate a few key aspects of a dress you know doesn't normally look good on you, that suddenly that style is the most flattered your body has ever been in a dress. If you like a dress, this is the time to be bold and step out of your comfort zone when on the hunt. Explore various styles such as tea-length wedding dresses, mermaid wedding dresses, or casual wedding dresses to find the perfect fit.
If you're looking for more specific wedding dress styles, consider browsing short wedding dresses, lace wedding dresses, simple wedding dresses, black wedding dresses, beach wedding dresses, or modest wedding dresses. Ultimately, the perfect wedding dress for you is the one that makes you feel confident and beautiful on your special day.
Other Red Wedding Dresses We Reviewed
We looked at 20 other red wedding dresses. Even though they didn't make our 5 best red wedding dresses list, they're the best of the rest and each is still a great option for your big day. The information you'll need to compare each one is included with the listing.
Red and White Wedding Dresses
APXPF Women's V Neck Satin Embroidery Wedding Dress for Bride Chapel Train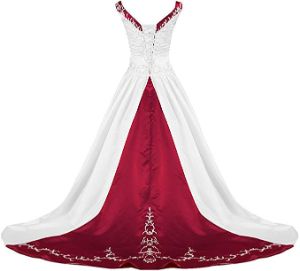 This traditional wedding dress gives enough red to invoke the good luck without shedding the idea of a white wedding.
Key Features:
Sizes 2-26 available
17 color options
Made with satin and embroidery
Cost: $110
Babygirls Wedding Dress Black Red and White Sweetheart with Train Bride Gown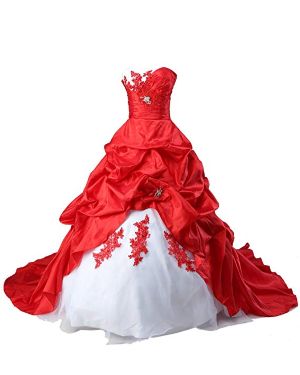 This lace ball gown wedding dress is perfect to make a big statement and still have the white featured somewhere in the gown.
Key Features:
Lacing back closure
Lace and sequin appliques
2 color options
Cost: $80
Chady White and Red Wedding Dress for Bride 2019 Halter Neck Embroidery A-line Floor Length Bridal Gown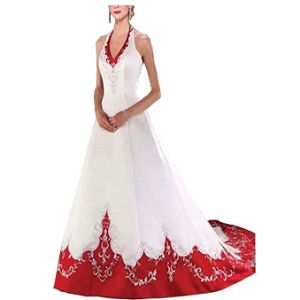 The halter and V-neck are trimmed with a vibrant red to express your need for that gorgeous color.
Key Features:
10 color options (2 reds)
Sizes 2-26 available
Satin, Lace and appliques
Cost: $160
CuteShe Women' Satin A-line Embroidery Wedding Dresses Bridal Gowns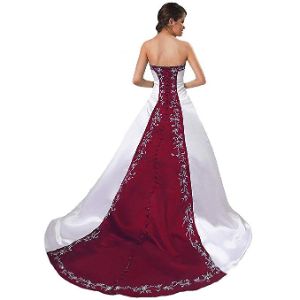 This dress has the bodice trimmed with a red that flares out unto the train to give plenty of your favorite color.
Key Features:
Size 2-24 available
7 color options (2 reds)
Made with satin and embroidery
Cost: $110
H.S.D Women's A Line Sweetheart Long Wedding Dress Bridal Gown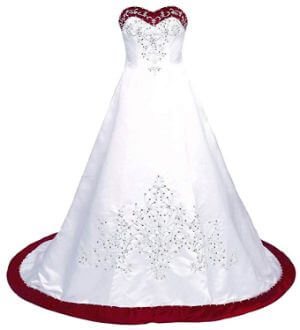 The hem and bust line of this dress both feature a solid red that has delicate embroidery for a gorgeous gown.
Key Features:
8 color options (2 reds)
Sizes 2-28 available
Back lacing closure
Cost: $120
Kmformals Women's Straps Vintage Satin Wedding Dress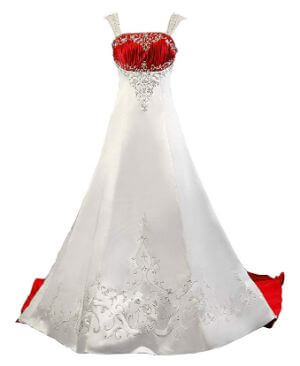 This dress features a red bust and train and cap sleeves with twinkling and complementing rhinestones.
Key Features:
16 color options
Satin with embroidery
Sizes 2-30 available
Cost: $120
OYISHA Womens Lace Applique Evening Dress with Long Sleeves Long Mermaid Wedding Celebrity Gown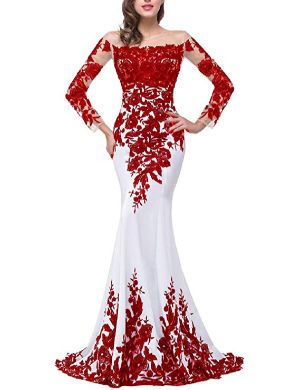 This lace and satin dress has a transparent netting that the floral appliques secure to for the appearance of an off-shoulder look without the wardrobe malfunction potential.
Key Features:
16 colors (3 reds)
Sizes 2-26 available
Zipper closure
Cost: $95
OYISHA Women's Red &White Embroidery Spaghetti Strap Chapel Wedding Dress
This dress comes in your choice of thirteen different sizes and also has the option of custom sizing so you can be sure to get the right fit.
Key Features:
Sizes 2-26 available
10 color options (2 reds)
Satin with delicate embroidery
Cost: $120
Snowskite Womens Halter Embroidery Satin Wedding Bridal Dress Corset Back
The halter neckline and laced back closure make the back of this dress just as beautiful as the front.
Key Features:
6 color options
Sizes 0-28 available
Embroidered satin construction
Cost: $150
Vantexi Women's Strapless Wedding Dress Formal Prom Gown
This is an ideal choice for the bride who loves red and butterflies.
Key Features:
Sizes 0-30 available
12 color options (4 reds)
Tulle and satin design
Cost: $140
Women's Flowers Embroidery Wedding Dresses Satin Bridal Gown
This dress will give plenty of support with its fully boned and lined design bodice.
Key Features:
8 color options
Sizes 2-26 available
Satin and laced back closure
Solid Red Wedding Dresses
Angel-fashions Women's V Neck Lace Split Ruffled Beading Sheath Wedding Dress

There is plenty of detail work on this dress with delicate lace and elaborate rhinestone beading all down the front leading to a side slit.
Key Features:
2 design options
2 color choices
5 size options
Cost: $65
ANGELA One Shoulder Ombre Long Evening Prom Dresses Chiffon Wedding Party Gowns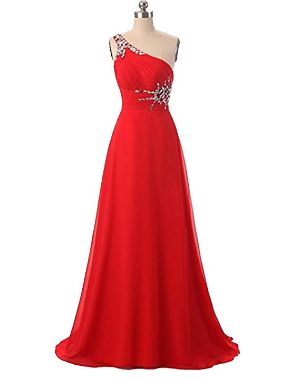 This dress offers a variety of colors with its single strap and lace up back closure to give you everything you want in your dress.
Key Features:
35 color and style options
Made with chiffon and rhinestones
Sizes 2-26 available
Cost: $80
conail Coco Women Ruched Waist Rhinestone Casual Formal Long Wedding Bridesmaid Dress 6002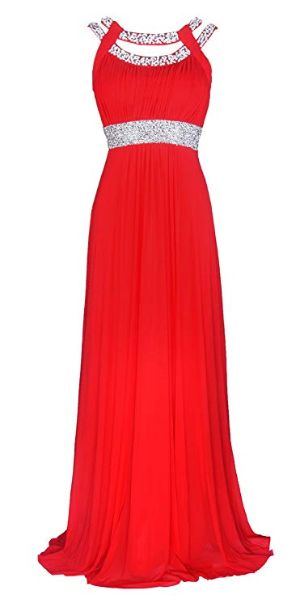 There is so much sparkle already built into this dress that you'll hardly even need to wear jewelry on your big day.
Key Features:
Lined and padded bust
6 sizes available
23 color options
Cost: $45
DRESSTELLS Retro 1950s Cocktail Dresses Vintage Swing Dress with Cap-Sleeves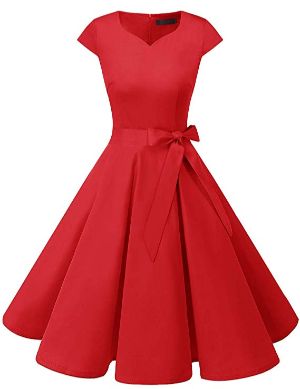 If you want a wedding with a vintage dress and a more casual feel, this red dress is just the one to accomplish that for you.
Key Features:
Zipper closure
7 sizes available
45 color and style options
Cost: $30
Graceprom Women's Puffy Beaded Crystal Dress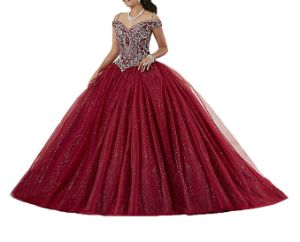 This gorgeous and formal dress has a built in bra and lace up back closure to give you the best support for your big day.
Key Features:
23 color options (3 reds)
Sizes 2-26 available
Made with tulle and rhinestones
Cost: $150
Kivary Gold Lace Vintage Long Prom Evening Dresses Wedding Gowns with Cape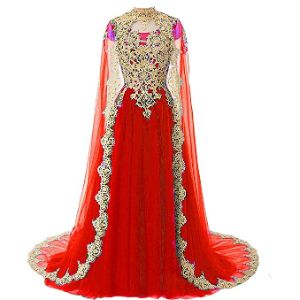 This vintage gown features delicate lace and a lined skirt as well as a built-in, long train cape.
Key Features:
Sizes 2-22 available
7 color options (3 reds)
Zipper back closure
Cost: $210
Kivary Gothic Black Satin Lace V Neck A Line Long Prom Corset Wedding Dresses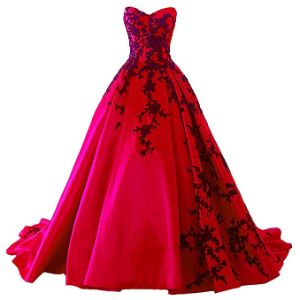 The floral arrangement on this dress is a gorgeous and detailed lace applique with subtle sequins.
Key Features:
Fully lined and boned
Sizes 2-22 available
22 color options (4 reds)
Cost: $180
Lemai Off Shoulder Beaded Satin V Neck Corset Long Prom Dresses Evening Gowns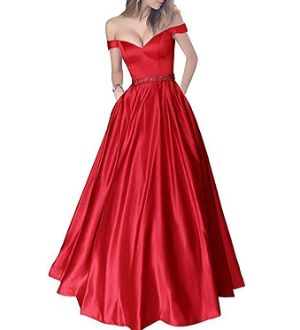 This dress has a beautiful off-shoulder neckline and a rhinestone waist to add more elegance and twinkle.
Key Features:
Sizes 2-24 available
22 color options (3 reds)
100% polyester
Cost: $100
ORICSSON Women's Plus Size Retro Floral Lace Halter Ruched Off- Shoulder Wedding Hi-Low Cocktail Party Evening Dress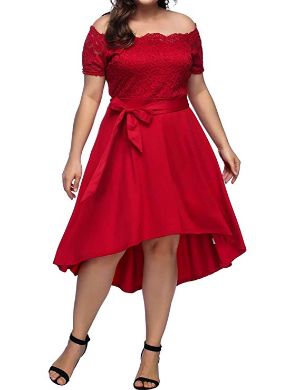 This dress will show a little leg while also offering plenty of classy lace to your ensemble.
Key Features:
12 color and style options (5 reds)
10 sizes available
100% polyester
Cost: $25
Frequently Asked Questions
What styles of wedding dress are best in red?
Red wedding dresses are available in a variety of styles, but some popular options include ballgowns, A-line dresses, and mermaid dresses. Red dresses with lace or beading can also add a touch of elegance and glamour to your wedding day look.
What shades of red are best for a wedding dress?
When it comes to red wedding dresses, there are many shades to choose from, including bright red, deep burgundy, and soft pinkish-red hues. Ultimately, the shade you choose should complement your skin tone and personal style.
Where can I find the best red wedding dresses?
There are many bridal boutiques and online retailers that offer red wedding dresses. Some popular options include David's Bridal, JJ's House, and Azazie. You may also want to check out local boutiques or designers for more unique and personalized options.
How do I choose the right red wedding dress for me?
When choosing a red wedding dress, it's important to consider your personal style, the theme of your wedding, and your body type. You'll also want to think about the season and location of your wedding, as certain fabrics and styles may be more comfortable in different weather conditions. Ultimately, the most important thing is that you feel comfortable and confident in your dress, and that it reflects your unique personality and style.